SUV limo rental in New York is just a call away!
Some people think of limousines and they think of sleek elegance. However, some people prefer hard-core vehicles and even when they think of limousines, they think of SUV limos. If you think that you will find it hard to find such a limousine anywhere else in New York, you would probably be right because New York Limousine is one of the very few services in the city that offers for hire NY SUV limousines. Therefore, we would be offering you a one-of-a-kind service if you were to come to us due to your interest in hiring an SUV limo in NY.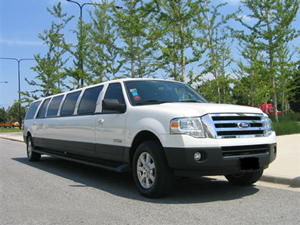 Like we have stated, New York Limousine offers SUV limos for rent in New York and when you come to us, you can have a look at the various makes and models we have available. You might not know the various kinds that we have available when you call us or see us on the internet which is why we encourage our customers to give us a visit so that they can see for themselves the various vehicles we have made available for hire. You can inspect each one and see which one would suit your needs best. This is usually ideal for conveyance purposes. You might have a huge delegation arriving with regards to your corporate business. You might want to go on a family trip. You might just want to take a ride around town with a group of friends. No matter what you need the vehicle for, you can come to New York Limousine, take a look at all we have and then decide on the one you want.
We have made everything very accessible for all of our customers. If someone wants to do business with New York Limousine, he or she should know what they are going to get as service. This will help them decide whether or not they want to benefit from our services which is why we make an effort to be our best so that customers see us and want to come to us in New York. We have competition but because of the attention we give to customers and because of the satisfaction that our service has to offer, we are definitely the service that they should want to come to.
Regardless of what the occasion is, we want you to arrive and travel in style and with comfort. Every business wants loyal customers and by showing them everything that we have to offer, we can make our customers loyal. In return we offer dedication and loyalty and if you come to New York Limousine to hire an SUV limo, you will surely not be disappointed. We meet our claims and make sure we give our customers what we promised them. Therefore, you will remember us for life if you come to us!